Hello everybody!
Ik weet dat ik afwezig was, sorry! Ik had het erg druk met school, dus ik had niet echt tijd om mijn nagels te doen, dus ik besloot om een paar dagen met helemaal geen nagellak rond te lopen! :P
Vandaag is het Koninginnedag, veel mensen gaan vandaag leuke dingen doen, maar ik... Ik moet de hele dag werken. Maar ik wilde toch een snelle Koninginnedag manicure doen!
I know I've been gone, sorry! I've been very busy with school, so I didn't really have time to do my nails, so I decided to go a few days without any nailpolish at all!
Today's Queensday, a lot of people are going to do fun things, but I... I have to work the whole day. But I still wanted to do a little queensday manicure!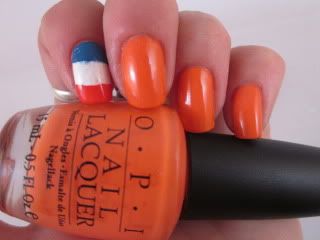 De vlag is niet echt helemaal perfect, maar goed genoeg toch? ;)
Alle kleuren die ik heb gebruikt zijn van OPI:
Hot & Spicy (oranje)
Suzi says Feng Shui (blauw)
Red my fortune cookie (rood)
Alpine snow (wit)
Ik hoop dat jullie mijn Koninginnedag manicure leuk vonden en verder wens ik jullie allemaal een hele leuke Koninginnedag toe! :D
Hot & Spicy (orange)
Suzi says Feng Shui (blue)
Red my fortune cookie (red)
Alpine snow (white)
I hope you like my queensday nails! Thanks for watching! :D